THAT ARENA ROCK SHOW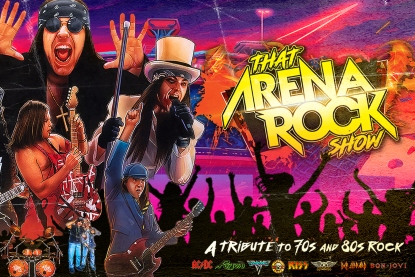 𝐆𝐄𝐍𝐄𝐑𝐀𝐋 𝐀𝐃𝐌𝐈𝐒𝐒𝐈𝐎𝐍: Select a standing General Admission ticket for an up-close and personal experience of the concert. You'll be standing right in front of all the action with access to the Anthem Bar. (First-come, first-served.)

𝐕𝐈𝐏 𝐂𝐇𝐀𝐈𝐑𝐒: Select a VIP chair to sit back and watch the show. VIP chairs include full-show seating and dedicated cocktail service.

𝐕𝐈𝐏 𝐁𝐎𝐎𝐓𝐇: Select a VIP booth to lounge in the back of the venue with your party. VIP booths include comfortable and spacious seating with dedicated cocktail service.
Must be 21 or older.

That Arena Rock Show is the ultimate high energy tribute to "Classic" Rock N' Roll. Performing legendary rock anthems that ruled the airwaves in the 70s and 80s. Including artists like: Led Zeppelin, Aerosmith, AC/DC, Bon Jovi, Guns N Roses to name a few.

This show will take you on a trip back in time, turning every sized venue into an arena for a night! Get your lighters out and your fist in the air. This rock show is more than just music – it's an experience!