MADDIE POPPE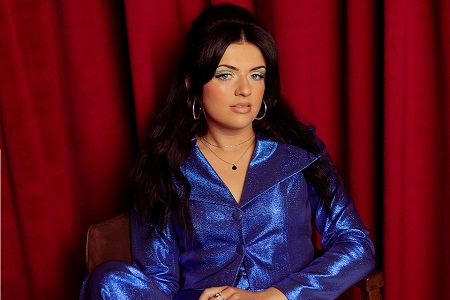 Must be 21 or older. Doors open one hour prior to show start time.

Unless you've experienced it firsthand, there's no way to understand just how dramatically instant fame can mess with your head. In winning American Idol in 2018, Maddie Poppe experienced all types of emotions — from elation to self-doubt. In these last four years, Maddie has grown tremendously, as both a person and an artist. The Iowa native has evolved from folksy singer-songwriter into a multi-faceted powerhouse artist and musician. Maddie, now 25, can still very much bowl over a crowd with only her honeyed voice and acoustic guitar. But she's upped her game by tapping into a modern sound that blends R&B, pop, and Americana, and by committing herself to writing her own songs.

In Spring 2019, following Maddie's coronation on American Idol, her debut album Whirlwind released. By summer, the record hit #2 on the charts. Whirlwind featured four radio singles, including two top-25s – "Made You Miss" and "Not Losing You". The year saw Maddie win a People's Choice Award, guest-star on The Kelly Clarkson Show, Jimmy Kimmel Live!, Live With Kelly & Ryan and Good Morning America, and tour in support of Ingrid Michaelson. During the height of the pandemic, Maddie released a holiday EP titled Christmas From Home. In Fall 2021, Maddie hit the road for her first headline tour dates. This year, Maddie has been constantly creating, both lyrically and musically. She is joined by an all-star team, including Nashville's Adam Sickler, and hit songwriters like Willie Morrison, Fraser Churchill, and Thomas Finchum.

This Spring, Maddie released her irresistible new single "One That Got Away". The song focuses on the dissolution of a friend's longtime relationship, predicting that the guy who foolishly dumped her will realize he threw away something great. But the track — a soulful jam with shades of Bruno Mars and Maroon 5 — can also be seen as a commentary on Maddie's own experience in the music industry.

Unlike the tracks selected for Maddie on her debut record, each new song on Maddie's upcoming EP will be rich in her own voice. "I'm very proud of Whirlwind, but I feel like this new project speaks truer to me and my story," she says. "When you're just starting out like I was then, it can feel like 100 different people are trying to tell your story. Now, I'm finally telling it in my own voice."

For 2023, Maddie is gearing up for a national tour featuring her new music and biggest hits. She's excited to introduce her fans to the special sound she's created, shaped by the diversity of her favorite artists (Lily Allen, Sheryl Crow, and Corinne Bailey Rae are all in rotation on Maddie's Spotify).

"I'm thrilled to release new music, but even more excited to play these songs live," Maddie says. "Almost everything I'm writing is upbeat and will be so much fun to perform with the energy of a live audience. For a long time, I simply thought of myself as the singer-songwriter, hometown girl from Iowa. Along the way I learned to spread my wings and branch out. I truly feel I've become the artist I was meant to be."

Maddie's US tour kicks off in Spring 2023. Visit MaddiePoppe.com for details.