THINK FLOYD USA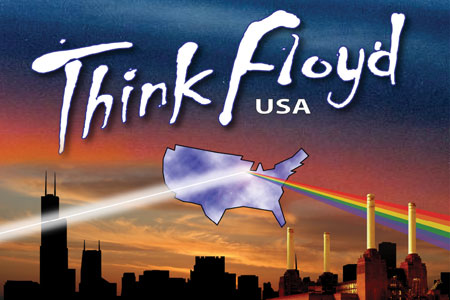 Think Floyd USA celebrates the music of Pink Floyd with a full-production tribute performance that showcases an energetic and phenomenally gifted cast alongside mesmerizing lights and video. Featuring nine passionate musicians and vocalists, Think Floyd USA includes several dedicated founding members who began the journey together in 2004.

Satisfying both those who love the major hits like "Wish You Were Here" and fans craving deep cuts like "Astronomy Domine," Think Floyd USA hits the stage with passion and joy, and often performs albums in their entirety.

Think Floyd USA's philosophy is to practice so thoroughly that the music becomes second nature, allowing the performers to deliver an unforgettable experience to the audience, which often includes beloved fans who have seen the show time and again (and whom the performers know by name and enjoy talking with after the show).

Deemed "absolutely amazing…the best Pink Floyd tribute anywhere" by Full Throttle Magazine and Best Tribute Band by Chicago's Metromix fans, Think Floyd USA has been featured in Singers & Musicians Magazine, which said, "You don't have to close your eyes to believe TFUSA is the real thing!"

Think Floyd USA tours regionally throughout the midwest and the Chicagoland area and has performed at a wide variety of venues including Park West in Chicago, the Surf Ballroom in Clear Lake, Iowa; and the Sandstone Amphitheater in Kansas City, Kansas. Additionally, Think Floyd USA was the featured performance on a Pink Floyd-themed Carnival Cruise to the Bahamas. And, after enthusiastic responses from audiences at Milwaukee's Summerfest, where Think Floyd USA has opened for Dickey Betts, Toto, The Zombies and many others.

Think Floyd USA became the first-ever tribute act to headline the BMO Harris Classic Rock Stage for two consecutive years at Summerfest, called the world's largest music festival.