FOOL HOUSE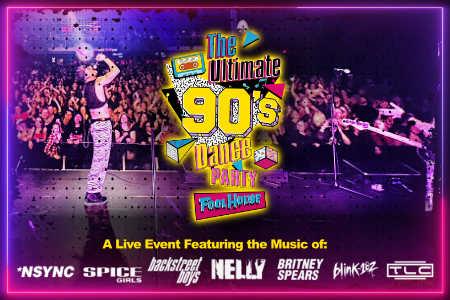 𝐆𝐄𝐍𝐄𝐑𝐀𝐋 𝐀𝐃𝐌𝐈𝐒𝐒𝐈𝐎𝐍: Select a standing General Admission ticket for an up-close and personal experience of the concert. You'll be standing right in front of all the action with access to the Anthem Bar. (First-come, first-served.)

𝐕𝐈𝐏 𝐂𝐇𝐀𝐈𝐑𝐒: Select a VIP chair to sit back and watch the show. VIP chairs include full-show seating and dedicated cocktail service.

𝐕𝐈𝐏 𝐁𝐎𝐎𝐓𝐇: Select a VIP booth to lounge in the back of the venue with your party. VIP booths include comfortable and spacious seating with dedicated cocktail service.
Must be 21 or older. Doors open one hour prior to show start time.

Fool House is THE ULTIMATE 90's DANCE PARTY! A LIVE musical event paying homage to the golden era of boy bands, pop stars, hip hop, and pop punk. With a larger than life production, this show recreates the sights, sounds, and energy of the biggest stars of the 90's.

Nonstop sing alongs, party throwbacks, and choreographed dance moves is what this show is about. Come prepared to sing your heart out and dance all night long!