PET ROCK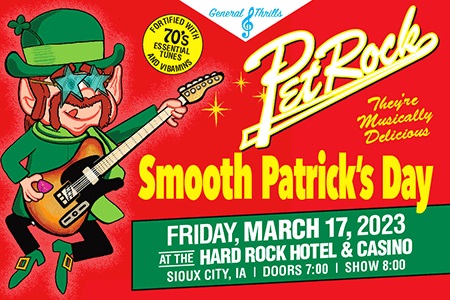 Remember the sound of the 1970s? Not the guitar-smashing hard rock, but the soft, flowing, sway-to-the-music melodies that had you humming. That's what you'll hear when Pet Rock plays at Anthem.

Based out of Omaha, NE and Iowa, this band plays soft rock of the 1970s, including "Take It Easy," "Brandy," and other one-hit wonders and top-40 hits. They dress the part, complete with bell-bottom jeans, wigs, and stage names.

Pet Rock consists of Duke Bradford on bass and vocals, Steely Dana on keyboard, guitar, and vocals, The Maestro on keyboard and vocals, and Flam Tapman on drums.

The band members had played together in various bands and in 2014 Flam and Duke consumed a few cocktails and suggested they put together a 1970s soft rock band. Christopher Frost, the "encyclopedia of the 1970s," was immediately on board. After about a year of practice, Pet Rock performed in venues across the Midwest and left behind raving reviews.

Fans appreciate how Pet Rock pays tribute to the entire 1970s era and bring a full experience to the concert. Even concertgoers show up dressed in 1970s attire with flowing hair, tie-dye tees, and an overall hippie look.