LITTLE BIG TOWN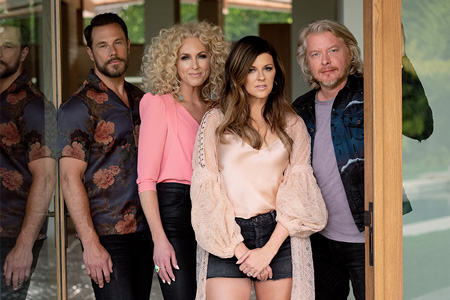 GRAMMY, ACM, CMA, and AMA Award-winning group, Little Big Town -- consisting of members Karen Fairchild, Phillip Sweet, Kimberly Schlapman, and Jimi Westbrook -- first entered the music scene over 20 years ago with hit songs "Boondocks," "Bring It On Home," "Good As Gone" and the GRAMMY-nominated "Little White Church." The bands breakthrough albums Tornado and Pain Killer produced multiple #1 singles, including "Pontoon," "Tornado," and "Day Drinking," as well as the history-making, best-selling country single of the year (2015) "Girl Crush." 2017's, The Breaker, debuted #1 on the Billboard Country Charts and Top 10 (No.4) on the Billboard 200 to critical acclaim. The album features their GRAMMY-winning, multi-week #1 single, "Better Man," as well as the 2019 GRAMMY-nominated, "When Someone Stops Loving You." Critically acclaimed and GRAMMY-nominated "The Daughters," "Over Drinking," and hit single "Wine, Beer, Whiskey" are the latest from the bands self-produced ninth studio album Nightfall which was released at the top of the Billboard Country Charts in January of 2020. To date "Wine, Beer, Whiskey" has reached global streams of over 265 million, putting Little Big Town's career lifetime streams at over 2.3 billion.

Little Big Town has earned more than 45 award show nominations and has taken home nearly 20 awards, including multiple GRAMMY, AMA, People's Choice, CMA, ACM awards, and an Emmy award.

The band recently launched 4 Cellars wine and Day Drinking canned wine spritzers, their first non-musical project as a band, with Browne Family Vineyards.

For more information on Little Big Town visit LittleBigTown.com or follow them @littlebigtown.