NU METAL REVIVAL TOUR 2020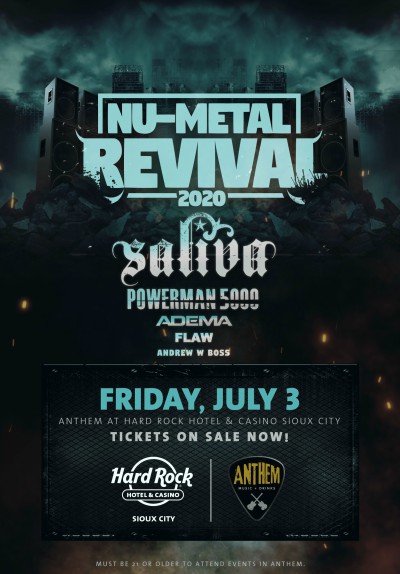 FOUR GOLD & PLATINUM SELLING POWERHOUSES TEAM UP FOR THE HOTTEST TICKET OF THE SUMMER – NU METAL REVIVAL 2020!!!

Grammy nominated SALIVA boasts a track record of platinum releases, hugely successful singles including "Click Click Boom," "Ladies and Gentlemen" and "Always" not only heard all over radio but also multiple motion picture soundtracks and television (WWE, ESPN, NASCAR, etc…).

POWERMAN 5000 and their trademark brand of Electro Metal Punk Noise have delivered smash hit after smash hit still featured on both terrestrial and satellite radio. With sales of over 3 million worldwide and 6 top-ten rock radio singles, PM5K continue to push creative boundaries plus defy musical categories.

ADEMA have reformed with four core original members who spawned the MTV staples "Giving In," "The Way You Like It' and "Unstable" which earned them Gold Album status in addition to prime slots on prestigious touring fests such as Ozzfest, Projekt Revolution, Music as a Weapon and SnoCore.

FLAW have built their reputation as a dynamic live act since their late 90's inception, through their acclaimed 2001 Universal Records debut "Through The Eyes" and continuing to the present day.