ROCKZILLA TOUR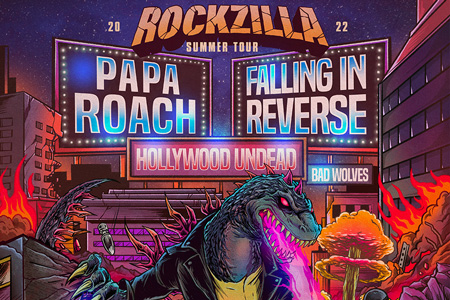 ROCK STAR LOUNGE: Views are obstructed.

BUD LIGHT PARTY TENT: Cocktail service does not include waiting staff.

PAPA ROACH
After two years of work and nearly 10 months of building up excitement with fans, Papa Roach recently celebrated the release of their eleventh studio album EGO TRIP. An album that sprouted almost by mistake in the throes of a global lockdown, its seeds were planted when the quartet entered a COVID-secure mansion in Temecula, California in the summer of 2020.

What started as an escape and an exercise in keeping the creative juices flowing, in a world that had completely ground to a halt, quickly grew into something bigger. Purposeful, provocative, and just the right side of the line between confident and cocky ("I really hope [the album title] stops a few people in their tracks" cackles front man Jacoby Shaddix), EGO TRIP is Papa Roach - completed by guitarist Jerry Horton, bassist Tobin Esperance and drummer Tony Palermo - at its boldest and most brilliant.

Papa Roach are two-time GRAMMY-nominated, Platinum-selling leaders in Alternative Hard Rock music, who in 2020 celebrated the 20th Anniversary of their iconic album "INFEST". 20 years into their career, the band continue to have global success.

FALLING IN REVERSE
Platinum-selling rock band Falling In Reverse, lead by outspoken and charismatic singer Ronnie Radke, have been completely dominating the radio and streaming space in this new decade. The band, which formed back in 2008 and built itself as a mainstay of the Warped Tour scene while gracing many Alternative Press covers, has seen its latest single "Zombified" hit No. 1 Billboard's Hot Hard Rock Songs Chart. The band has also been generating nearly 50 million total streams per month. Falling In Reverse's previous chart-topping single "Popular Monster" earned platinum RIAA status. The track is truly a juggernaut and is a watershed moment for the band. "Popular Monster" has been streamed nearly half-a-billion times and has emerged as one of the biggest anthems of the past several years. It enjoyed a multi-week stint at No. 1 on the rock radio charts, landing in the top spot on the Mediabase Active Rock Chart, Billboard's Hot Hard Rock Chart, and the Nielsen Rock Chart, and marked the first No.1 single of the band's career. It followed the gold certification of the band's 2011-released debut album The Drug in Me Is You and a sold-out anniversary tour. During the shutdown that was a result of the COVID-19 pandemic, Radke quickly established himself as one of the most popular musicians streaming on the Twitch platform. In Winter 2022, the band returned to the road and embarked on the sold-out "Live From the Unknown" tour, further cementing its status as one of the top live draws in the genre. Falling In Reverse have continued to catch the eye of the press, with their career arc being spotlighted by top-tier, tastemaking publications such as Forbes, Billboard, New York Times, Pitchfork, and beyond.

HOLLYWOOD UNDEAD
Platinum-certified quintet Hollywood Undead recently shared their furious new single and music video "Wild In These Streets," out now via BMG. The song embraces their rise from the wild streets of Los Angeles, while the accompanying video features photography from the archives of the band's own Funny Man, arranged in a clever lyric-driven ode to a time when the band were running "Wild In These Streets". Watch "Wild In These Streets" here and stay tuned for more new music from Hollywood Undead, coming soon.

BAD WOLVES
American heavy metal band, Bad Wolves, formed in 2017 and found fame from their first single, a cover of The Cranberries' 1994 hit, "Zombie." The band proceeded to create hit singles like "Remember When," "Killing Me Slowly," and "Sober," topping the Billboard Mainstream Rock song charts.
HUGE Ego Trip VIP Package (VIP1) - $279
• (1) GA ticket or premium reserved seat
• Early Entry into the venue
• Exclusive Access to the "Ego Trip Midway Attractions" Pre-Show Gaming Area
• Autographed "Ego Trip" CD
• Autographed, limited edition dedicated art print (VIP only)
• Specially designed Ego Trip reusable bottle
• Exclusive, Commemorative amusement park token
• Commemorative VIP laminate
• Early merchandise shopping
• Limited availability

Big Ego Trip VIP Package (VIP2) - $179
• (1) GA ticket or premium reserved seat
• Early Entry into the venue
• Autographed "Ego Trip" CD
• Limited edition dedicated art print (VIP only)
• Specially designed Ego Trip reusable bottle
• Exclusive, Commemorative amusement park token
• Commemorative VIP laminate
• Early merchandise shopping
• Limited availability