THE PORK TORNADOES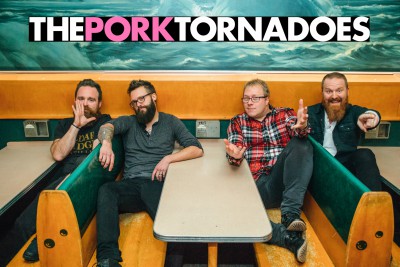 𝐆𝐄𝐍𝐄𝐑𝐀𝐋 𝐀𝐃𝐌𝐈𝐒𝐒𝐈𝐎𝐍: Select a standing General Admission ticket for an up-close and personal experience of the concert. You'll be standing right in front of all the action with access to the Anthem Bar. (First-come, first-served.)

𝐕𝐈𝐏 𝐂𝐇𝐀𝐈𝐑𝐒: Select a VIP chair to sit back and watch the show. VIP chairs include full-show seating and dedicated cocktail service.

𝐕𝐈𝐏 𝐁𝐎𝐎𝐓𝐇: Select a VIP booth to lounge in the back of the venue with your party. VIP booths include comfortable and spacious seating with dedicated cocktail service.
Must be 21 or older. Doors open one hour prior to show start time.

Iowa's most popular cover band makes another appearance at The Hard Rock Hotel & Casino Sioux City. Playing all your favorite pop/rock hits from the 1980s-today, and specializing in girl pop songs. No schtick, no gimmick, no costumes: just party. Led by singer Mason Greve, who is known as "The Justin Timberlake of the Midwest" and was a finalist on a Not-To-Be-Mentioned National singing tv show in 2014, The Pork Tornadoes will blow you away with an electric mix covers ranging from Taylor Swift, Katy Perry, Justin Timberlake and Beyonce, all the way to Lizzo, The Killers, Coolio and Phil Collins.

Their debut EP peaked on the Apple iTunes Pop charts at #20 and was streamed over half a million times in 2020. They recently achieved viral success with the 5th-most viewed cover of 'Tennessee Whiskey' on Youtube and an impromptu performance of 'In The Air Tonight' with a drum line that was featured in Rolling Stone. With over 13 million views on Youtube/Facebook and more than 90,000 social media fans worldwide, you won't want to miss this show. Come see what all the fuss is about.