JEW JAM - IN MEMORY OF CHRIS GALINSKY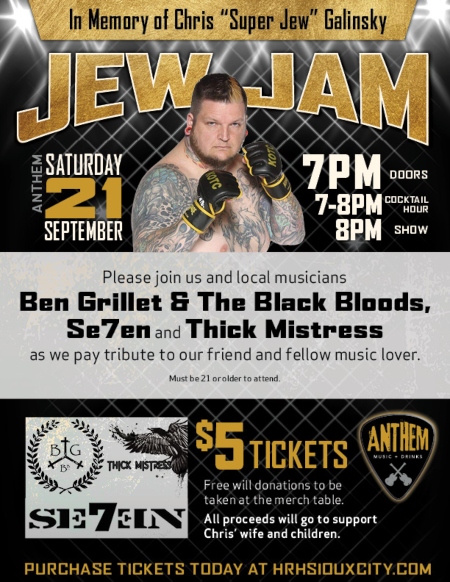 Doors: 7:00 PM
Show 8:00 PM

Saturday September 21st, friends and family are invited to Anthem at Hard Rock Casino in Sioux City to join local musicians, Ben Grillet and the Black Bloods, Se7en, and Thick Mistress in paying tribute to their friend, Chris Galinsky.


All proceeds to go to the Galinsky family.

Chris was born July 4, 1977, in Reno, Nev.; he was the son of Robert and Diana (Day) Galinsky. Chris came to Sioux City as a teenager and graduated from North High School. He played hockey for the Sioux City Metros. Chris was currently the marketing and promotional coordinator at the WinnaVegas Casino.

Chris was a loving and caring father and enjoyed going to his kids' activities. He loved music and had attended over 500 concerts. He was also a Professional MMA Fighter and enthusiast.

Survivors include this wife, Bonnie; his children, Trey, Devon, Joshua, Conner, Tripp, Ayson, and Kearah; his father, Robert Galinsky; his brother, Stephen Galinsky; his uncle and aunt, Andy and Gabriella Galinsky; his aunt, Angela Stokes; and his loved St. Bernard dog, Sir Lloyd.