MALMSTEEN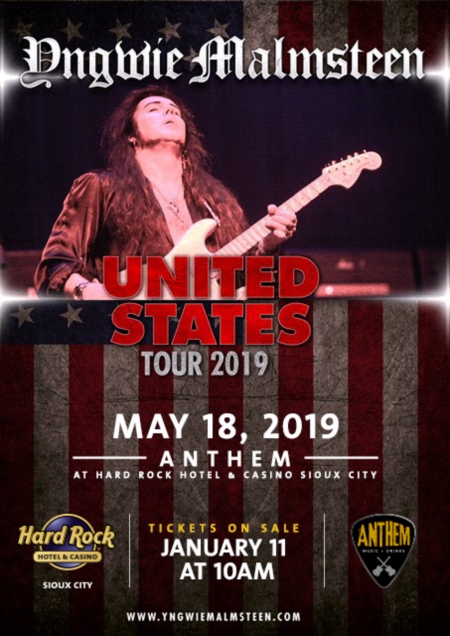 Yngwie Malmsteen was born in Stockholm, Sweden, on June 30, 1963. The youngest child in a household that included his mother Rigmor, sister Ann Louise, and brother Bjorn, Yngwie originally had no interest in music. However, on September 18, 1970, Yngwie saw a TV special on the death of guitar iconoclast Jimi Hendrix. Seven-year-old Yngwie watched with awe as Hendrix blasted the audience with torrents of feedback and sacrificed his guitar in flames. The day Jimi Hendrix died, the guitar-playing Yngwie was born.



Applying his intense curiosity and tenacity to first an old Mosrite and then a cheap Stratocaster, Yngwie immersed himself in the music of such bands as Deep Purple and spent long hours practicing to learn their songs. His admiration for Ritchie Blackmore's classically influenced playing led him back to the source: Bach, Vivaldi, Beethoven, and Mozart. As Yngwie absorbed the classical structures of the masters, his prodigious style began to take shape. By age 10, he began to focus all his energies into music. His mother and sister, a talented flautist, recognized his unique musical gifts and gave him support and encouragement. His mastery of the instrument progressed rapidly. In his early teens, Yngwie saw a television performance of Russian violinist Gideon Kremer, who performed the highly difficult 24 Caprices of 19th century virtuoso violinist Niccolo Paganini. The effect was profound, and Yngwie understood at last how to combine his love of classical music with his burgeoning guitar skills and onstage charisma.



By age 15, Yngwie's trademark style had begun to emerge. He worked for a time as a luthier in a guitar repair shop, where he encountered a scalloped neck for the first time when a 17th century lute came into the shop. Intrigued, Yngwie scalloped the neck of an old guitar in similar fashion and was impressed enough with the results to try it on his better guitars. The scalloped fret board was somewhat more difficult to play than a normal neck, but his control over the strings was so improved that Yngwie immediately adopted it as a permanent alteration to his equipment.



About this time, Yngwie began playing in a number of bands built around his explosive guitar style, with long instrumental explorations. Around age 18, Yngwie and several friends recorded a demo set of three songs for Swedish CBS, but the cuts were never released. Frustrated, Yngwie began sending demo tapes to record companies and music contacts abroad. One such tape found its way into the hands of Guitar Player contributor and Shrapnel Music. Yngwie was invited to record with a new band Steeler--and the rest, as they say, is history.



From Steeler, Yngwie moved on to Alcatrazz, a Rainbow-style band, but it became clear that to fully develop his talents, Yngwie would have to go solo. Yngwie's first solo album, Rising Force (now considered the bible for neoclassical rock) made it to #60 on the Billboard charts, an impressive feat for a mostly instrumental guitar album with no commercial airplay. The album also gained Yngwie a Grammy nomination for best rock instrumental performance. He was voted Best New Talent in several readers' polls, Best Rock Guitarist the year after, and Rising Force became Album of the Year. Rising Force blazed a trail on the concert circuit that established Yngwie as one of rock guitar's brightest new stars and added a new genre to the music lexicon: neoclassical rock.



With his place in guitar history firmly established, Yngwie's neo-classical compositions fueled the ears of fans and the ambitions of aspiring guitarists worldwide for over a decade with such powerhouse classic albums as Marching Out, Trilogy, Odyssey, Live in Leningrad / Trial By Fire (gold-selling concert video of Yngwie's 1989 sold-out concerts in Moscow and Leningrad), Fire & Ice (which debuted in Japan at #1 and sold over 100,000 copies on the day of its release), The Seventh Sign, Magnum Opus, Inspiration (covering the music of Deep Purple, Rainbow, U.K., Kansas, Scorpions, Rush, and Jimi Hendrix), Facing the Animal, Alchemy, and Attack!!



In 1997, Yngwie proved that he was much more than a rock phenomenon. After months of intensive work, Yngwie produced his first completely classical work, Concerto Suite for Electric Guitar and Orchestra in Eb minor, Op. 1. This groundbreaking album was recorded in Prague with the prestigious Czech Philharmonic Orchestra and famed symphony conductor Yoel Levi. Several years later, in 2001,Yngwie found his first opportunity to perform the critically acclaimed Concerto Suite with the New Japan Philharmonic Orchestra in Tokyo. The DVD/CD/VHS package of this groundbreaking performance became Yngwie's first release of the year in January 2002.



In 2003, Yngwie joined the famous "G3" Tour in a lineup many guitar fans saw as the ultimate dream combination (Satriani, Vai, Malmsteen). The CD and DVD of the tour became instant classics and hot sellers throughout the year. Once the G3 tour ended, Yngwie took to the road again in support of his Attack album.



Taking most of 2004 to rest, recharge his creative batteries, and work in his studio at his leisure, Yngwie produced a highly acclaimed new album titled Unleash the Fury. Featuring some of his most impressive playing and songwriting in years, the album garnered rave reviews from fans and critics alike. Virtuosityone.com, a popular Internet hard rock music review site proclaimed, "Yngwie Malmsteen, the Neo-Classical king is back to Unleash the Fury with another bag of alchemy fuelled compositions... Overall Unleash the Fury is a welcome return to form from ... to deliver the goods." Reviewers on Amazon.com and CD Universe gave the new album 5-star ratings, with consumers proclaiming "Yngwie is the original, don't settle for cheap imitations!" and "it's a great year for shredders!"



In the summer of 2005, the Unleash the Fury World Tour kicked off in Ireland and headed across the globe, blazing new trails of glory. Malmsteen and his Rising Force lineup proved they were back with a vengeance by selling out the famed Hammersmith Apollo theatre in London and playing to rapt capacity crowds across the U.K., and garnering legions of new fans from Paris to Vienna to Madrid. Eager fans in the U.S. made the Unleash the Fury Tour a major event of the year.



By 2006, Yngwie's career resurgence was in full gear. He attended the annual NAMM music-industry convention to promote his new strings endorsement with Dean Markley, then toured the U.S. a second time, then Asia, Australia, and Finland by the end of the year, igniting fans as never before. Yngwie explained it this way: "Staying in good shape

has a tremendous amount to do with it; I'm reaping the benefits this year." That year, Fender updated Yngwie Signature Malmsteen Model Strat, making small but important changes to the neck. "Fender rules the universe. They treat me so good, and I'm so honored and proud to be working with them." Throughout 2007, Yngwie continued work on his next rock opus, and took a break in December to South America and Mexico, fulfilling the dreams of fans who hadn't seen him in their country in years.



2008 marked Yngwie's 25th year in the U.S.! Yngwie signed several endorsements, with Austrian acoustics company AKG, makers of top-of-the-line microphones and acoustic equipment, and Boss/Roland. That same year, Yngwie learned he'd been chosen to be in the exclusive NAMM Oral History program. Begun in 2000, NAMM's Oral History Project documents through videotaped interviews some of the greatest contributors to the music products industry, including Herbie Hancock, Maynard Ferguson, Les Paul, blues legend B.B. King, and now, Yngwie Malmsteen.



Yngwie's redesigned official website, www.yngwiemalmsteen.com, went online, along with his own merchandise site. Yngwie continued to work at a leisurely pace on his next album. Work also continued on Fender's Malmsteen limited edition replica of the "Duck," Yngwie's prized and famed 1972 Strat. Fender Custom Shop experts flew to Miami to measure and photograph every aspect of the original instrument to ensure the replica's authenticity down to the last detail. With a new lineup that included ex-Priest singer Tim "Ripper" Owens, Yngwie played concert dates in Germany, doing clinics for Fender, and then hitting the summer festival circuit in Europe, starting with Graspop in Belgium and ending up in Finland, and then on to clinics and concerts in the U.K.



2008 also saw an amazing testament to Yngwie's resurgence on the rock music scene – he scored the cover of Guitar World's "Kings of Shred" issue, appearing alone on the cover instead of sharing it with other musicians. About his newfound visibility, Yngwie said, "There are a lot of new, younger fans who are just discovering the joys of playing with speed, power, and articulation and they're coming to my shows and places like NAMM and guitar shows." Throughout 2008, Yngwie scored other magazine covers, including All Access, Crusher Magazine, Fuzz, Guitar Player, Roadie Crew, and Vegas Rocks. But perhaps the biggest recognition of 2008 came in October, when Yngwie was inducted into Hollywood's Rock Walk of Fame on Sunset Boulevard in Hollywood.



Also in October, Yngwie released his new studio album, Perpetual Flame, on his own newly established label, Rising Force Records. The album also marked the debut of Yngwie's new singer, ex-Judas Priest front-man Tim "Ripper" Owens. To coincide with the festivities surrounding Yngwie's first album in several years, the Fender Custom Shop unveiled the new Yngwie Malmsteen Tribute Series Stratocaster guitar, the reproduction of Malmsteen's beloved "Duck" (also called the "Play Loud" guitar). Touring to support the new album began in earnest, with a full schedule of dates starting in the U.S., and the momentum of Perpetual Flame kept rolling right on into the new year.



Early in the 2009, Yngwie contributed three tracks to the video game Rock Band, for

both Xbox and PlayStation. Still promoting Perpetual Flame, Yngwie and the band played a series of killer concerts in Japan with rock icons Deep Purple. By mid-summer, Yngwie astonished fans and critics alike by releasing an album completely off the beaten path for him, an entirely instrumental collection of ballads from Yngwie's earlier works, performed on acoustic guitar with orchestral arrangements. To everyone's surprise, Angels of Love (inspired by Yngwie's wife April) hit the top of Amazon.com's New Age music list.



Recognition of Yngwie's place in music history continued to come in. In Time Magazine, Yngwie found himself included as one of the "10 Greatest Electric Guitar Players." Near the end of the year, Yngwie and his management company decided to begin releasing rare archival concert footage. The first was Yngwie in Korea, shot during his 2001 War to End All Wars Tour, in Seoul, South Korea. And that, asserts Yngwie, is just the tip of the iceberg of things to come!