NICKELBACK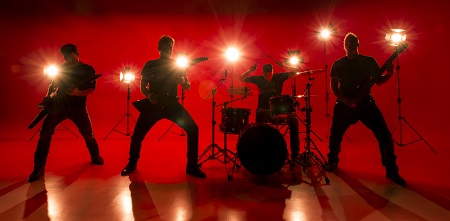 Feed The Machine marks the bands 9th studio Album released on BMG. It's arguably the band's most refined and energized work since their breakthrough hit Silver Side Up. The album debuted in the Top 5 on the Billboard charts and #1 on the Rock Album Charts.

Since forming in Alberta, Canada in 1995, globally celebrated, multi-platinum rock band Nickelback have cemented themselves as one of the most commercially viable and important acts of the past two decades. Nickelback's success includes worldwide sales of more than 50 million units, solidifying their status as the "eleventh best-selling music act" and second best-selling foreign act in the U.S. of the 21st century. Their inescapable and irresistible smash "How You Remind Me" was named Billboard's 'Top Rock Song of the Decade' and was No. 4 on the Top 10 songs of the 2000's list.

Nickelback's album All The Right Reasons has been Diamond Certified (10 million copies sold) by the RIAA putting them on an elite shortlist of artists to ever accomplish this. Amongst all these accolades, they've also been named Billboard's "Top Rock Group of the Decade." Along the way, they have received a staggering nine Grammy Award nominations, three American Music Awards, a World Music Award, a People's Choice Award, twelve JUNO Awards, seven MuchMusic Video Awards, and have been inducted into Canada's Walk of Fame (2007).

With more than 23 chart-topping singles and fans spanning the globe, Nickelback boasts twelve consecutive sold-out world tours, playing to well over eight million diehard and adoring fans. Nickelback is Chad Kroeger (Lead Vocals, Guitars), Ryan Peake (Guitars, Backing Vocals), Mike Kroeger (Bass) and Daniel Adair (Drums, Backing Vocals).