THE BOY BAND NIGHT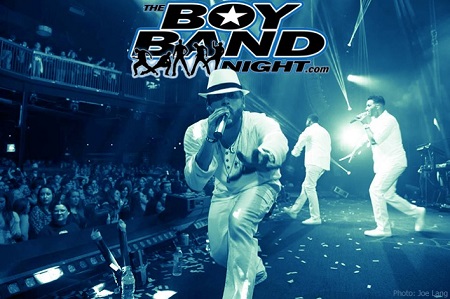 𝐆𝐄𝐍𝐄𝐑𝐀𝐋 𝐀𝐃𝐌𝐈𝐒𝐒𝐈𝐎𝐍: Select a standing General Admission ticket for an up-close and personal experience of the concert. You'll be standing right in front of all the action with access to the Anthem Bar. (First-come, first-served.)

𝐕𝐈𝐏 𝐂𝐇𝐀𝐈𝐑𝐒: Select a VIP chair to sit back and watch the show. VIP chairs include full-show seating and dedicated cocktail service.

𝐕𝐈𝐏 𝐁𝐎𝐎𝐓𝐇: Select a VIP booth to lounge in the back of the venue with your party. VIP booths include comfortable and spacious seating with dedicated cocktail service.
Must be 21 or older. Doors open one hour prior to show start time.

The impact of 90s music created a paradigm shift in pop-culture that has continued to evolve through the decades. The fusion of musical genres forged an era of heartthrob adolescents unmistakably known as Boy Bands. Paying homage to the many iconic groups we know today, The Boy Band Night brings America's only live tribute to pop sensations like The Backstreet Boys, *NSYNC, New Kids On The Block, Boys II Men, One Direction, and many more! These top-tier musicians bring a musical and visual experience with note-for-note representations of all of your favorite songs accompanied by the signature choreography from the music videos we remember. Don't miss this opportunity to see this nationally touring act from Chicago! The Boy Band Night is EVERYTHING Boy Band!
You might also like these events: