SPIN DOCTORS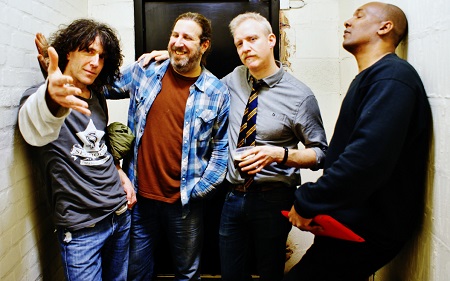 The band's Epic debut EP Up For Grabs was recorded live at Wetlands in Lower Manhattan and released in January 1991. (In 1992, these EP tracks were remixed and supplemented by additional live recordings to form the album Homebelly Groove.)

In August 1991, the Spin Doctors released their full-length debut album Pocket Full Of Kryptonite, co-produced by Peter Denenberg and Frankie LaRocka. Relentless touring and a wave of positive press kept the album alive into the next year, when sales began to increase dramatically. Kryptonite was certified gold in September 1992 and received an additional boost from the band's October appearance on "Saturday Night Live." Reaching the one million mark in January 1993, Kryptonite entered the Billboard Top Ten one month later.

By June 1993, the album was triple platinum and had breached the Top Five among Billboard Pop Albums while spinning off two major hit singles: "Little Miss Can't Be Wrong" and the No. 1 Rock radio song of 1993, "Two Princes." Ultimately, Pocket Full Of Kryptonite sold over five million copies in the US and another five million overseas.

"[Their] popularity is based on universal rock & roll virtues," said Rolling Stone, which put the band on the cover of its January 7, 1993 issue. "The Doctors aren't trying to blaze new trails-they know we've been down this way with the Stones, Curtis Mayfield, and a few of their other touchstones. But the proof-plenty of it-is in the party."

In June 1994, the Spin Doctors released their second Epic album, Turn It Upside Down. Once again co-produced by Peter Denenberg and Frankie LaRocka, the album featured new originals like "Biscuit Head," "Bags Of Dirt," and "You Let Your Heart Go Too Fast." The band set out on a three-month headlining tour, and played to immense crowds at the Woodstock and Glastonbury festivals. Their cover of the Creedence Clearwater classic "Have You Ever Seen The Rain?" was a highlight of the multi-platinum Philadelphia soundtrack.

Deeply weary of the road, guitarist Eric Schenkman left the group in September '94-just as Turn It Upside Down was certified gold-and was replaced by Anthony Krizan for their fall tour of Europe. In November-December 1994, the Spins opened for the Rolling Stones on a series of eleven North American stadium shows. In March 1995, their album hit the one million (platinum) mark in the US, moving an additional million copies overseas.

The Spin Doctors' next Epic album, You've Got to Believe In Something, was produced by Danny Kortchmar and released in May 1996; more touring followed. After Anthony Krizan's departure, the band soldiered on with a new guitarist and a new label (Uptown/Universal) for the 1999 album Here Comes the Bride. But during these sessions, Mark White left the band. Later, Chris Barron lost his voice to an attack of vocal cord paralysis-and soon the Spin Doctors called it quits. (In October 2000, Sony Legacy released the 17-track retrospective Just Go Ahead Now.)

Mark White moved to Houston, Texas to practice and teach bass. Eric Schenkman earned two degrees from the New School University in New York before moving to eastern Canada. He has played and/or recorded with Natalie Merchant, Carly Simon, jazz composer Kip Hanrahan, Canadian songwriter Jimmy Rankin, and his own groups Cork (with drummer Corky Laing) and High Plains Drifter (with the late Blues Traveler bassist Bobby Sheehan).

Chris Barron undertook what he calls "a journeyman songwriting experience," composing tunes with Blues Traveler's Jon Popper and with former BMI executive Jeff Cohen. Aaron Comess produced and/or recorded with Joan Osborne, Chris Whitley, Mark Cohn, Rachel Yamagata, and Bilal, among others. He is one-third of the New York Electric Piano Trio, and appears on the albums New York Electric Piano Trio, War Oracle and Citizen Zen.