BLOOD SWEAT & TEARS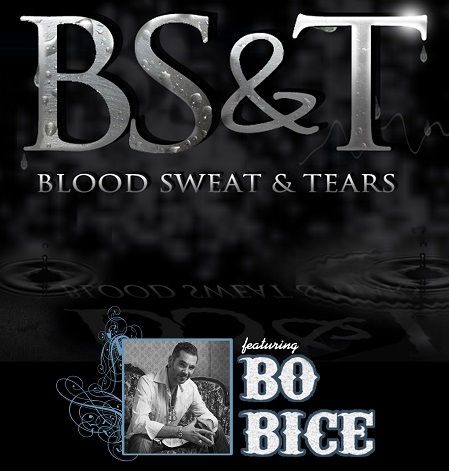 With World Class vocals, musicianship, & a multitude of solid gold hits, BLOOD SWEAT & TEARS is at the top of their game. Vocal dynamo & pop phenomenon Bo Bice fronts the band with a self-assured voice & good looks. They are the band that fused rock, blues, pop music, horn arrangements and jazz improvisation into a hybrid that came to be known as "jazz-rock". Bobby Columby, original founder & drummer of BS&T, has fielded a team of the best contemporary musicians to create an All Star powerhouse of a band. His vision for the band remains quite simple, "Find the greatest musicians and the rest is easy". That philosophy was combined with hit recordings of songs by masterful songwriters such as Laura Nyro, James Taylor, The Band, the Rolling Stones, as well as Billie Holiday that have sold tens of millions of recordings. "I believe BS&T has an iconic stature. It's a style of music," says Colomby. "A concept that people are coming to see, along with songs that they're familiar with." His desire to create a 21st century B,S & T brand first began to come into focus when he heard singer Bo Bice performing "Spinning Wheel" on American Idol. "Bo's an original," says Colomby. When I saw him perform I thought, 'WOW!… He could sing a lot of this material in a newer fresher way.' Bo's style works PERFECTLY with 'God Bless the Child' and 'Spinning Wheel' and 'You Made Me So Very Happy' as well as with the material that the band will be performing as we move musically forward." They have won Gold Records, Grammy Awards, the respect of the best in the industry & the love of millions of fans. It's a future of endless possibilities for Blood Sweat & Tears featuring Bo Bice.
Multiple Billboard Top 40 hits include:
"YOU'VE MADE ME SO VERY HAPPY"
"SPINNING WHEEL"
"WHEN I DIE"
"HI-DE-HO"
"LUCRETIA MAC EVIL"
"GO DOWN GAMBLIN"
"GOD BLESS THE CHILD"
and many more!