DWIGHT YOAKAM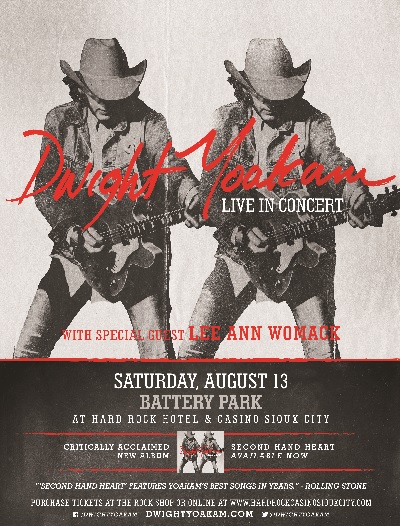 with LEE ANN WOMACK

"In another time and place," sings Dwight Yoakam on the buoyant "In Another World," the opening track onSecond Hand Heart, the brilliant new album that takes the pioneering honky-tonker back to Warner Bros./Reprise, where he began his major-label recording career thirty years ago. Yoakam's distinctive, supple vocals, accented with his Kentucky croon, sound as strong today as they did on his debut, 1985's Guitars, Cadillacs, Etc. Etc. Its release immediately yielded hit singles, and over the course of some 21 albums – totaling more than 25 million in sales worldwide – Yoakam has continued to passionately sing, write, and play music brimming with hard country and rock & roll. Second Hand Heart was self-produced by Yoakam, and reflects where he's been, but even more so, where he's going: "'In Another World' guided the rest of the album," says Yoakam. "It became its statement – about surviving and hope."
"When you're around Dwight, you get this sense of urgency," explains Warner Bros. VP of A&R Lenny Waronker, executive producer of Second Hand Heart. "He's like somebody who's just starting his career – almost like this is his first record. He's on 'rewind' in a way. There's a certain kind of energy, power, that makes it sound so youthful. It's very unique. A lot of it goes back to his main strengths: his vocal, which is unchanged, and his songwriting. Plus, the power of the guitar playing and the power of the songs add up to a really wonderful record."
Following a stint at New West Records and 2012's well-received 3 Pears on Warner Nashville, Yoakam reconnected last year with Warner/Reprise. He took his killer touring band into L.A.'s venerable Capitol Studios, Studio B, where artists like Buck Owens, Gene Vincent, The Beach Boys, and Ray Charles cut classic sides in the '50s and '60s. "This record's made completely without auto-tune or time correction," vouches Chris Lord-Alge, the multiple Grammy-winning engineer who mixed Second Hand Heart and co-produced (with Yoakam) three of the LP's tracks. "Nobody really sings like this guy, and no one sings as in tune as he sings. His work ethic is from an era before technology made everyone lazy."
"Dwight wears so many hats but doesn't get in his own way," Waronker points out. "It's hard to write the song, perform the song, play the song, and produce it. He's a great guitar player and comes up with riffs that make a song. And you can tell he's having fun doing this." The catchy "She," one of eight originals, is a textbook case of Yoakam's Epiphone Casino leading the way.
His deep knowledge of music history seeps into his own sonic playbook, with hints of Elvis, The Everly Brothers, The Beatles, and The Beach Boys, among other influences, coloring the album's songs. Yet once Yoakam "puts his hillbilly voice on it" – as he refers to that magnificent instrument – he makes it his own. He was thinking of Brian Wilson and Pet Sounds, he says, when he envisioned the soaring harmonies on the guitar-propelled "In Another World" to complement the song's inspirational bridge: "Your tortured heart's/soft anguished pleas/rescued by love/shall be set free." "The lyric became a sort of rock gospel," Dwight muses.
Second Hand Heart does not sound labored over; it has a loose, spontaneous feel. "Dwight clearly understood that perfection is the enemy, in a way, on this record," says Waronker. Yoakam and his band (Brian Whelan on keyboards and guitar, Eugene Edwards on lead guitar, Jonathan Clark on bass, and Mitch Marine on drums) cut the basic tracks live in the studio, often on nights off between gigs as they toured the country with Eric "The Chief" Church. The hook-filled title track was road-tested, winning over audiences, while other songs came together in the studio. "I would teach the band something on the spot," Dwight says. "We'd rehearse it a couple or three takes, then do it." One of those – which bursts with what Yoakam calls "the spirit of teenage recklessness" – is the raucous "Liar," sounding like a lost nugget from a '60s garage-band compilation (he likens it to sounds from the Kinks or Mitch Ryder and the Detroit Wheels). Another rave-up, a dynamited "Man of Constant Sorrow," kicks off with a blistering guitar solo before Yoakam employs his emotive twang (and hoots 'n hollers), while the band rocks out – like "Bill Monroe meets the Ramones," says Dwight, who remembers his early days playing Hollywood dives with cowpunkers Rank & File, Lone Justice, and The Knitters. Meanwhile, his "psychobilly" number "Off Your Mind" finds "Johnny Cash colliding with Roger Miller," he says, referring to the track's loping rhythm (Tennessee Three style) and conversational vocals and wry lyrics (a la Miller).
"Songs never die – they're just reborn," Yoakam quips, referring to a pair of keepers: "Dreams of Clay," originally recorded as a big Orbison-style ballad in 2000 but never released as a single, was re-envisioned in the spirit of "Suspicious Minds"-era Elvis. The rockabilly homage "Big Time" started life as a 1989 Levi's commercial starring Yoakam (the original demo is one of three bonus tracks on the deluxe version of the album). He discovered the breathtaking ballad "V's of Birds" when its author, Anthony Crawford – a former sideman for Yoakam as well as Neil Young – recorded it for Pete Anderson's label. "I heard the poetry of the opening verse and thought it was like something out of a Faulkner novel," says Dwight. "And I loved the melody."
Layers of chiming guitars (think: The Byrds) characterize the sonics of "Believe," the transcendent ballad whose message "embodies the whole album in that one song," Yoakam asserts. "Even in the total dark/I know we can find a spot/with dreams," he sings, and we believe him.
"All of us have that need to remind ourselves that life is always worth trying, every day – surviving to hope," Dwight says. And with Second Hand Heart, the man with many hats intends to do just that.