CARROT TOP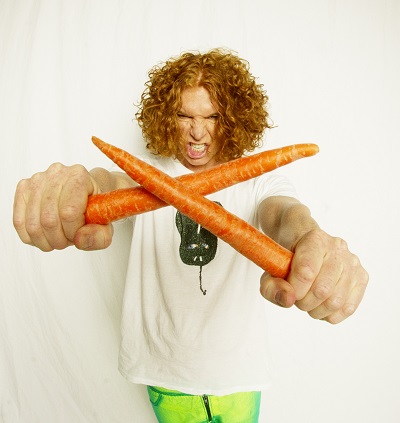 Becoming a pop culture icon is a difficult thing to achieve but Scott "Carrot Top" Thompson has done just that. With three decades of comedic performance in his rear view mirror, Carrot Top is one of the most popular, recognizable and successful comedians in America. After years of playing out to sold-out shows throughout the country, he has now become a Las Vegas icon as well, celebrating his tenth anniversary with the Luxor Resort and Casino at the end of 2015. Coinciding with his milestone anniversary, the property announced a five-year contract renewal for the hit resident show through 2020.


The trademark red locks and the undeniably inventive use of props have vaulted Carrot Top to the level that most comedians can only hope to reach. "Nobody can steal my act," says Carrot Top. "I've challenged comics to write me a prop and they can't. All comedians can use plays on words or puns but writing a visual joke is something else. A rubber chicken isn't enough. I have to write my own material and make my own props because no one sells what I do better than me. I'm happy not only that I have my own style but that I've been an original from the very start."


That start came when he was a student at Florida Atlantic University in Boca Raton, Florida. His freshman year he went to a club and saw live stand-up comedy for the first time. A couple months later the campus bulletin board announced an open mic night. "I wasn't going to do it but my roommate convinced me. He said 'You're funny.' I was scared and did some old jokes but people liked it." His second attempt brought his first prop to the stage. It was so well received that he found another prop that brought a great crowd reaction and then another that did the same. The rest is comedy history.


After building a following on the comedy circuit that made people laugh nearly every weekend, his first television appearance was on "Comic Strip Live" in 1991. Things changed for Carrot Top forever in 1992 with his first appearance on "The Tonight Show." That appearance exposed his unique brand of comedy to every home in America. After an impressive 31 appearances, Carrot Top also had the distinct honor of appearing on the very last episode of "The Tonight Show with Jay Leno" on February 6, 2014. Carrot Top's other credits include hundreds of TV programs including "Live with Regis and Kelly," "Politically Incorrect with Bill Maher," "The Late, Late Show with Craig Ferguson," "Late Night With Conan O'Brien," "Gene Simmons' Family Jewels," "Chelsea Lately," "Last Comic Standing," "Criss Angel - Mindfreak," "Tom Green Live", "The Neighbors", "Tosh.O", ESPN commercials, as well as the American Movie Classics' presentation of "Three Stooges" shorts. He most recently appeared on the hit TV show "Glee" and was also featured on the Oprah Winfrey Network's "Where Are They Now?" In addition to his numerous television appearances, Carrot Top also starred in his own movie Chairman of the Board and performed in Dennis the Menace Strikes Again, The Hangover, and most recently appeared in the Trailer Park Boys' film Swearnet: The Movie.


Carrot Top went from working small clubs in the late 1980's to becoming the highest grossing touring comedian in America by the late 1990's. A spectacle worthy of most rock bands, Carrot Top's show is filled with lights, music, fog machines and confetti cannons. "I went from two trunks and a strobe light to an 18-wheeler and 35 trunks full of props….from a Yugo to a tour bus for the crew and myself. I actually had to hire people to carry my props. It got pretty crazy pretty fast."


Then came the move that every comic hopes to make, a regular gig on the Strip in Las Vegas. After headlining at MGM Grand for 16 weeks a year, he signed a very lucrative and long-term deal with the Luxor Hotel and Casino. He performs almost 300 shows a year in the Atrium Theatre. Fans flock to see his show because it is as current as today's headlines, consistently poking fun at pop culture, politics, music and whatever the real world has to offer. No one is safe from the "King of Props" hilarious and infectious humor.
"I have been performing in Vegas for many years and now I truly enjoy calling it home," Carrot Top said. "Luxor is the perfect place for me – on the Strip in the most exciting city in the world. Vegas has become such a star-studded vacation destination for celebrities, where else could I be in the center of the biggest resource in the world for new material?"