HERE COME THE MUMMIES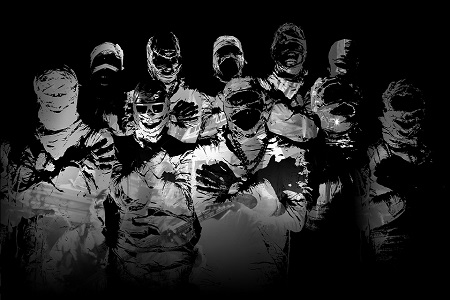 𝐆𝐄𝐍𝐄𝐑𝐀𝐋 𝐀𝐃𝐌𝐈𝐒𝐒𝐈𝐎𝐍: Select a standing General Admission ticket for an up-close and personal experience of the concert. You'll be standing right in front of all the action with access to the Anthem Bar. (First-come, first-served.)

𝐕𝐈𝐏 𝐂𝐇𝐀𝐈𝐑𝐒: Select a VIP chair to sit back and watch the show. VIP chairs include full-show seating and dedicated cocktail service.

𝐕𝐈𝐏 𝐁𝐎𝐎𝐓𝐇: Select a VIP booth to lounge in the back of the venue with your party. VIP booths include comfortable and spacious seating with dedicated cocktail service.
Must be 21 or older. Doors open one hour prior to show start time.

Here Come the Mummies is an eight-piece funk-rock band of 5000 year-old Egyptian Mummies with a one-track mind. Their "Terrifying Funk from Beyond the Grave" is sure to get you into them (and possibly vice versa).

Since their discovery, HCTM has been direct support for P-Funk, Al Green, Mavis Staples, KC and the Sunshine Band, and Cheap Trick; rocked Super Bowl Village; become a regular on The Bob and Tom Show; played massive festivals like Summer Fest, Summer Camp, Common Ground, Musikfest, and Suwannee Hulaween; and sold tickets by the thousands across large swaths of North America.
Maybe that's why the ladies (and some dudes) can't stop losing their minds over these mayhem-inducing mavens of mirth.

Some say they were cursed after deflowering a great Pharaoh's daughter. Others claim they are reincarnated Grammy-Winning studio musicians. Regardless, HCTM's mysterious personas, cunning song-craft, and unrelenting live show will bend your brain, and melt your face. Get ready! Here Come The Mummies.

HCTM is:

Mummy Cass - Guitar, Vocals
Eddie Mummy - Drums, Vocals
K.W. TuT - Bass, Vocals
Spaz - Keys, Vocals
The Pole! - Bass
Midnight Mummy - Bari & Tenor Sax, Keys, Percussion, Talk Box, Vocals
Dr. Yo - Saxes, Vocal, Tambo
Highlander - Tenor Sax
"H-POD" (High Priest of Death) - Trumpet